Sunday, August 14, 2005
Sigh.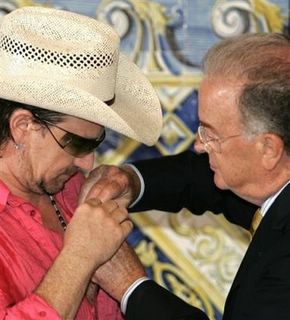 Really, I think this is cool that U2 has received an
award
for their work for humanitarian causes.
But, would it have killed Bono to dress up a little while meeting with the President of Portugal? Maybe wear a tie, or at least take off the stupid hat and sunglasses? He looks like he's meeting friends for country line dancing after this or something.
Here's a clue, if a guy with the title of
President
will be pinning medals on you at any point during the day, at least button your shirt most of the way up...
Comments:
oh, bono puts on
plenty
of airs, sheri. just ask any dubliner what they think of bono, and you'll see.
personally, i could go on for hours about him.
Post a Comment
<< Home